Information technology consulting
In this digital era, every company needs to be technologically competent. It's essential to digitize your operations and adopt emerging technologies to ensure business efficiency and productivity. At Ancubate, we help you raise your business to the next level with expert technology consulting and implementation solutions.
Services
Overview
Technology will keep evolving, and businesses need to adapt. But with a renowned technology consulting company by your side, you can add flexibility and efficiency to your business operations. Our IT consulting services help you select and implement the best technologies in your business. Here's a quick overview of our services.
Agile & DevOps
Our Agile and DevOps services help you achieve operational agility and greater productivity. We add efficiency to your business processes by implementing intelligent automation and guided principles. Our services make your business more flexible and help you respond to changes quickly
Digital marketing & SEO
If you're a traditional brick-and-mortar store owner who wants to take his business online, we can help. Our tailored digital marketing and search engine optimization (SEO) services enable you to start selling online, expand your business, and reach a global audience.
Information technology outsourcing
Ancubate's IT outsourcing services are designed to help you achieve your digital and technical objectives. If you're looking for a trusted technology partner to support your business operations, we are here to help. Our solutions range from infrastructure management to end-user support.
Staff augmentation
Want to enhance your staff's capabilities without making any long-term commitments? Ancubate's staff augmentation services have got you covered. We offer skilled personnel on a contract basis to help you increase staff capacity and add specialized skills.
Business automation
If you continue to rely on manual processes, you'll soon lag behind in this hyper-competitive business world. Our business automation services systematically replace your manual operations with intelligent automation, enabling you to achieve efficient collaboration and business productivity.
Technology consulting
Whether you're a tech or non-tech company, implementing technology to your business isn't a choice anymore. It's a necessity. At Ancubate, we demystify the daunting task of using the right technologies for your business so that you can achieve your business goals with ease.
Our IT Consulting Process
As the leading software services consulting company, Ancubate deploys agile methodologies for quick, seamless, and high-quality delivery. We follow a four-step IT consulting process that starts with understanding your goals and ends with delivering promised results. Here's how our IT consulting process looks like:
Analysis
Our software consulting services experts discuss and understand your project requirements.
Resource optimization
We ensure all the labor and non-labor resources are in line with your needs.
Performance
Our team ensures your organization achieves high performance and productivity.
Improvement
We implement the solutions, take your feedback, and make the necessary changes.
Technologies
Our Tech Expertise
As the leading IT consulting services company, we keep track of all the latest technologies and IT trends. Our diverse IT team ensures you get access to adequate tech expertise as per your business requirements. Here are the technologies we specialize in.
   iOS
   Android
   Ionic
   WordPress
Benefits of Ancubate's technology consulting services
Improve Operations
Our IT consulting services help you optimize core business functions and enhance operational efficiency.
Reduce Costs
Ancubate helps you eliminate manual processes, thereby helping you save time, money, and resources.
Seamless Scalability
With the right technologies in your arsenal, you can scale your business to new heights.
Specialized Talent
Our highly-skilled technology consulting services team ensures you get the best quality services and technical proficiency.
Startups and
New companies
Are you a startup that wants to flex its tech muscles? We've got you covered. Ancubate provides technology consulting services dedicated to startups. We help you select the right technology stack and solutions so you can build a tech-based foundation for your business.
Expanding companies
Technological adoption is no longer a buzzword for enterprises and large businesses. In this vying business environment, small and midsize businesses also need to adopt the right technologies. We offer IT strategy consulting services to SMBs so that you can enhance your business productivity.
Enterprise
If you've been a traditional enterprise that relies on manual processes, adopting technology and automation can be intimidating. Ancubate simplifies the process for you. We understand your requirements and assist you with selecting and implementing the right technologies that support your company.
Why choose Ancubate for IT consulting?
Experience
We've been offering IT strategy consulting services for a decade. Our experienced and skilled staff ensures guaranteed results.
Personal Approach
We don't follow a one-for-all approach. Our experts understand your requirements and provide tailored solutions specific to your requirements.
Improvisation
Technology keeps evolving, and so do we. At Ancubate, we prioritize improvisation and innovation so that you can get the best quality of services.
Our work
For years, we've been helping enterprises, SMBs, and enterprises adopt the latest technologies and give a new direction to their business. Do you want to be the next? Here's a quick dive into our technology consulting services portfolio.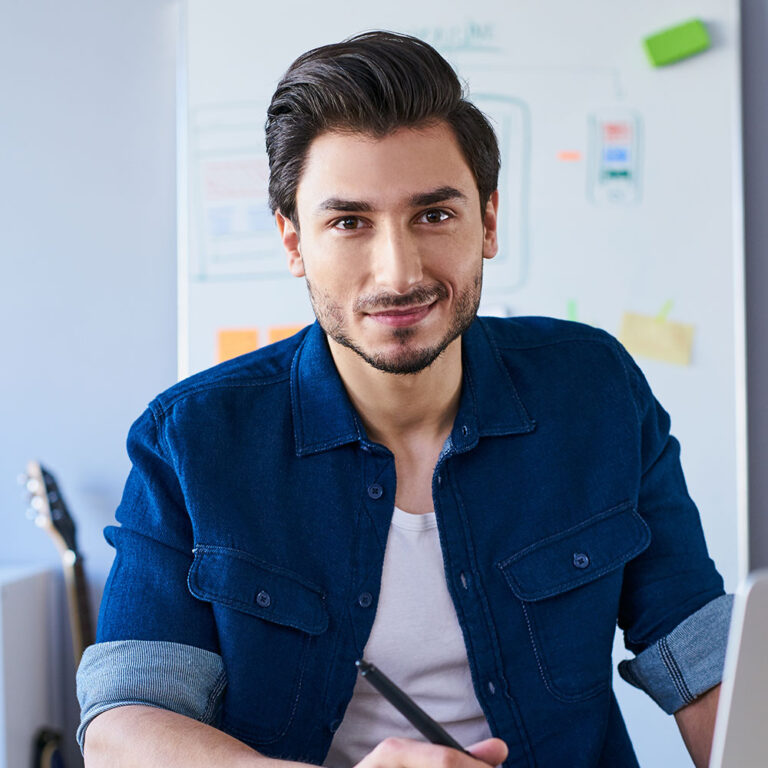 I own a three-decade-old manufacturing company. I was amused by all the hype about technological innovation in the manufacturing business, but I had no idea how to proceed. I contacted Ancubate, and they completely revolutionized my business.
Most asked questions about IT consulting services
contact us
We'd love
to hear from you!